Greetings
Greetings
Expanding our business further by utilizing the know-how and vast amounts of information that earned us the top market share
Takumi Sakata,Representative Director and President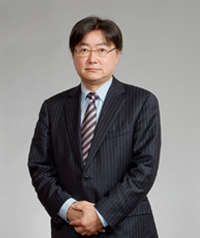 We have continued to serve as a manufacturer of specialized metal roofing parts since our founding half a century ago. Sakata's history is one of technological innovation achieved by repeatedly challenging ourselves and creating new things, and today we are the market leader in Japan boasting a majority of the market share. Although we started out with only one type of product, we now have approximately 40,000 variations achieved by responding to each and every customer's needs. In addition, the fact that we have achieved more than 100 patents and utility models is evidence of our capabilities as a company, and it is also the shared pride of all Sakata employees.
We expanded into the solar panel business in 2008 based on our successes in the building materials field. By using deep-reaching knowledge from roofing makers throughout Japan and the vast amounts of information at our disposal, we strive to create products that are compatible with any type of roof as we respond firmly to rapidly increasing demand in this field.
In the future, we aim to focus our energies toward expansion overseas. Initial efforts to export products are already under way as we endeavor to be the top roofing parts manufacturer not only in Japan, but also worldwide.
Company Overview
Access
Technical and Development Competence